We have some truly great sponsors who actively and enthusiastically support our athletes.
We genuinely appreciate their support and hope that you support their products, services and causes!

GU Energy
From 1991 until today, athletes the world over have come to the same conclusion: GU works. Their Berkeley-based sports nutrition company started with our original GU Energy Gel, a revolutionary and more effective method to keep athletes fueled during exercise. Since then, GU has continued to improve the recipe, incorporating the latest scientific research into its products. In 2001, GU2O was launched as the perfect hydration companion to GU Energy Gel, and in 2008, the introduction of Roctane Ultra Endurance Energy Gel continued GU's mission: help athletes go faster and longer than ever before.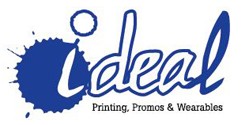 Ideal Printing, Promos & Wearables
Ideal is a full service advertising specialties company offering a wide range of promotional items to promote your company. They can help you find a cost effective way to market and promote your business with custom promotional items that speak to your customers and clients. With the number of companies we work with the possibilities are only limited by your imagination.

INFINIT Nutrition
INFINIT's custom-blended nutrition solutions are designed to match an athlete's unique nutritional profile. Their all-natural fueling and hydration drink mixes are the simple answers to the increasingly complicated world of sports nutrition. They carry a variety of ingredients that have been shown to enhance endurance, improve muscle hydration, and boost recovery and muscle gains.
Different people, different sports, different weights, different sweat rates; one off-the-shelf powder is not the right answer. INFINIT allows you to customize your Mix to have the amount of calories, the level electrolytes, flavor strength, carb content and more, creating the right nutrition for you and your training. Even customize your Mix to include whey or vegan protein, enrich it with BCAAs, or boost it with caffeine. Plus, our ever expanding list of optional Custom Mix "extras" gives you the option of adding a number of ergogenic aids to your blends like beta-alanine, creatine monohydrate, and CoQ10.
INFINIT Nutrition's mission is to develop products that help customers perform and feel better through all-natural, isotonic high powered custom-blended nutrition solutions. They dedicate themselves to customized product development for athletes resulting in unparalleled performance. They provide unsurpassed customer service, and product of the highest quality and purity standards available anywhere. 

Kinetic Cycles
Why Kinetic?  Kinetic Cycles is committed to sharing and spreading our passion for bicycles and the quality of life they offer.  Check out Kinetic Cycles – they have an awesome new location near the intersection of Watt and Fair Oaks – just off mile 10 of the bike trail.  Check them out!
You can also stay connected with Kinetic through their social media here!

Olympic Foot and Ankle
Olympic Foot and Ankle features a full scope specialty practice offering complete care of the foot, ankle and lower leg.  All Olympic Foot and Ankle doctors are board certified in foot surgery and reconstructive rearfoot/ankle surgery. Patients with heel pain, ingrown toenails, toenail fungus, shin splints, bunions, sports injuries, dance injuries and other foot and ankle disorders visit our Carmichael foot and ankle center of excellence from around the country. From simple, non-surgical wart treatment to complex reconstructive flatfoot surgery, Olympic Foot and Ankle can take care of any and all foot, ankle, and lower leg needs.

PRO Compression
PRO Compression products are specifically designed to give you an edge and help you perform at the highest level possible. They can be worn before, during and after a workout as the benefits of compression speed up muscle recovery through enhanced vascular flow in your lower extremities.

ROKA was formed in a garage with humble beginnings and a laser-beam focus. Their mission is to unlock human potential. To equip. Empower. Inspire. Ignite.  They serve those who seek to redefine the standard, to push themselves to the limit – whatever and wherever that may be.
Since launching in 2013, ROKA's patented and award-winning products have been worn on the backs of multiple world champions, and thousands of athletes who have redefined what is possible in their own lives. Titles have been won, records broken. 
They make the finest technical apparel and equipment on the planet. And when they see an opportunity to innovate, to challenge the status quo, to disrupt a complacent or monopolistic market, they go all in.

Rudy Project
Rudy Project designs and manufactures hi-tech sunglasses, goggles, helmets and accessories using the application of science, advanced materials and computer technology to create functional, aesthetically superior and technologically advanced products.

Swanson McArthur Physical Therapy
At Swanson McArthur Physical Therapy, they provide comprehensive care for all orthopedic and sports injuries and dysfunctions.  They utilize a variety of manual therapy techniques, therapeutic exercise, and extensive patient education to help our patients restore their function and maximize their performance.
Swanson McArthur Physical Therapy is dedicated to providing optimal healing and rehabilitation with accurate diagnoses, leading-edge equipment, and proven hands-on techniques.  They recognize that everyone is unique, so their treatments are customized to meet the needs of each patient.  Their highly educated staff has dedicated itself to helping patients restore their function, reduce their pain, and understand how to prevent re-injury.  They genuinely care about your recovery.

Transformational Coaching
If you are re-evaluating your life's direction and wanting a deeper sense of purpose and fulfillment, then Teresa Campos' coaching is an invitation to discover what is possible. Most often, people want to make a change by creating or achieving something different in their lives, yet, they are not quite certain how to begin. They seek a renewed sense of fulfillment and want to make a personal invest in themselves. Teresa Campos can help you navigate these changes.